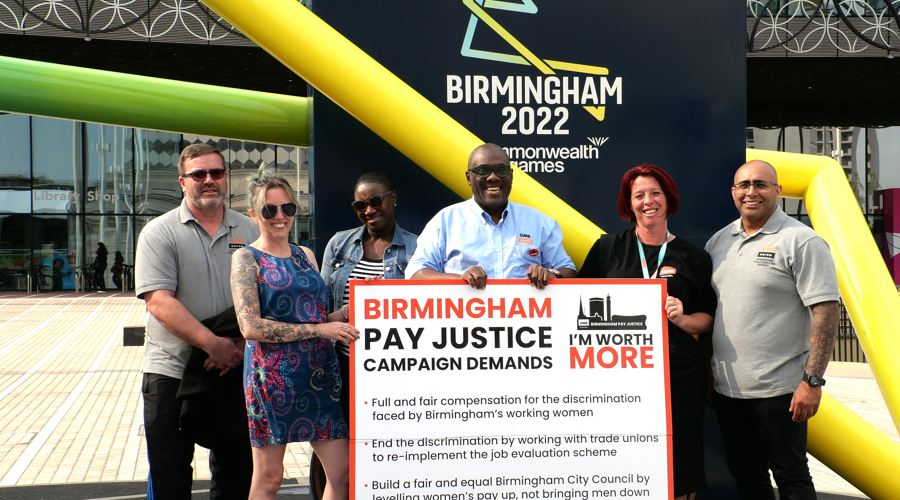 GMB, the largest staff union in Birmingham City Council, has responded to the announcement today that Birmingham City Council has issued a second Section 114 notice.
GMB is the only union to have lodged equal pay claims against the local authority on behalf of its members, and the council estimates that the cost of settling claims could reach over £1bn.

Birmingham City Council has so far failed to reach an agreement with trade unions over a way forward on job evaluation, with the council looking to sidestep NJC best practise to reduce timescales for implementation by limiting worker involvement.
More than 98 per cent of GMB members voted to reject the council's job evaluation proposals earlier this month, and 96 per cent of those who voted said they would be willing to strike over equal pay.
GMB has urged the council to re-implement the NJC scheme by following the NJC best practice.

Rachel Fagan, GMB Organiser, said:
"This is pure politics from council top brass, piling pressure onto politicians to take what would be a catastrophic decision for the city.
"The council's proposals lock workers out of the job evaluation process, risking more discrimination and more debt which would threaten the future of the city's services.
"Birmingham City Council already owes hundreds of millions of pounds to its low-paid women workers, wages that have been stolen from them over years of discriminatory pay practises, and that bill is growing by the minute.
"For almost 2 years, GMB has urged the council to work with us in re-implementing the NJC scheme, the gold standard scheme for local government jobs. That would end the discrimination and stop the clock on the city's mounting equal pay debts.
"The council needs to act quickly, but the people of Birmingham can't afford for them to get this wrong again.
"Another sticking plaster fix won't cut it. It's time for real pay justice."


Member requiring help?
Click to contact your local GMB Region
info@gmb.org.uk